April 5, 2022
Posted by: Philip Smith
Categories:

Power of Attorney Dubai, Property Conveyancing, Property Handovers, Property Sales Property Purchase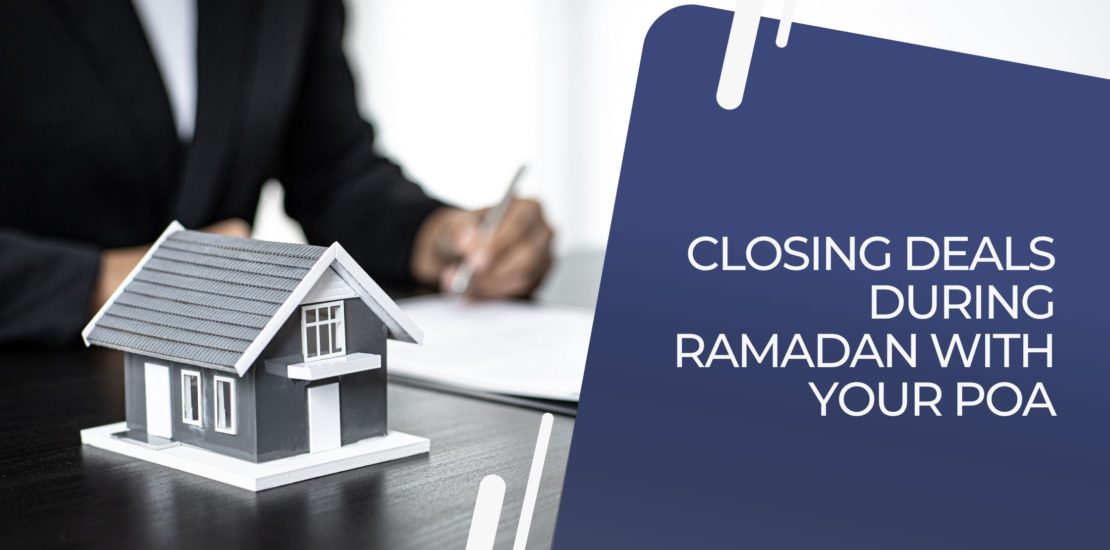 Closing More Property Deals During Ramadan With Your POA Dubai
We are all aware of the impending situation. Ramadan is right around the corner, and for many real estate agents and entities, this means a shorter time frame to process and close deals. The weather gets hotter, the days shorter and most people are on holiday or taking leaves of absence to spend time with their families. In our experience, real estate agents that appoint a Power of Attorney Specialist to represent their clients during slower months of business, are able to significantly expedite the rate at which property transactions are processed and therefore increase the number of deals closed at this time.
Your POA Dubai & What we do
Formed in early 2015, Your POA has quickly established itself as the leading independent Power of Attorney service provider in the UAE. We provide high quality, award-winning Power of Attorney services to an increasing, and a global network of investors throughout the UK, Europe, North America, MENA, and Australasia.
What sets us apart from other Power of Attorney Service Providers is that:
We are the first & only truly independent Power of Attorney service in the UAE.
We provide specialist representation services to 750+ clients located all over the world for a wide range of property-related matters, business structuring, and asset protection.
We have a team of legally qualified, experienced young and dynamic experts, all equipped with the necessary market knowledge, qualifications and network to ensure that transactions are completed quickly and securely.
We have benefitted from a 100% success rate in all of our assigned cases.
The Benefits of Using Your POA Dubai in the month of Ramadan
Client does not have to be present: The main benefit of using a power of Attorney (POA) specialist is that the client does not have to be physically present. This is of particular importance during the month of Ramadan as clients are often traveling outside of Dubai and therefore tend to delay property transactions until after their return. If represented by a POA there is no need for this to continue being a concern, as we would be representing the client instead; thereby ensuring a smoother and faster property transaction, even in slow months.
Additional source of income: At Your POA, we believe in the power of creating strong relationships and value anyone who brings in new business. Therefore, in addition to any income you may receive from the deal, we also offer financial incentives vis-à-vis our referral program.
Non-compete: As we are not real estate agents you do not run the risk of losing the deal to another agent, rather we can help facilitate the process so that you are able to accommodate more clients and increase the number of deals in the same amount of time. Many of our partnered agents even find our support as an excellent means of getting their clients to sign on the dotted line!
Access to a broad base of clients: Over the years we have assisted and represented over 750+ clients in a series of property and non-property related matters. Our clients are often looking to invest in or sell their properties. Therefore, Your POA can not only assist you in closing deals with existing clients, but we also offer a wide network of new clients that may be searching for properties.
Legal requirements: Given the latest regulations, real estate agents are no longer legally permitted to act as Power of Attorneys for their clients due to conflicts of interest. That being said, the benefits of having a POA still stand and the logical solution to this is to help your client seek a POA specialist to handle their property affairs whilst they are away.
At Your POA we firmly believe that Ramadan should be a month of celebration for all. Help us help you by getting in touch with one of our specialists today at info@yourpoadubai.com or +971 4 338 3032! if you are still confused about what a Power of Attorney can do for your, Click here to find out more.
Want to know how Dubai Developers came together last year to give back to the community? Click here.